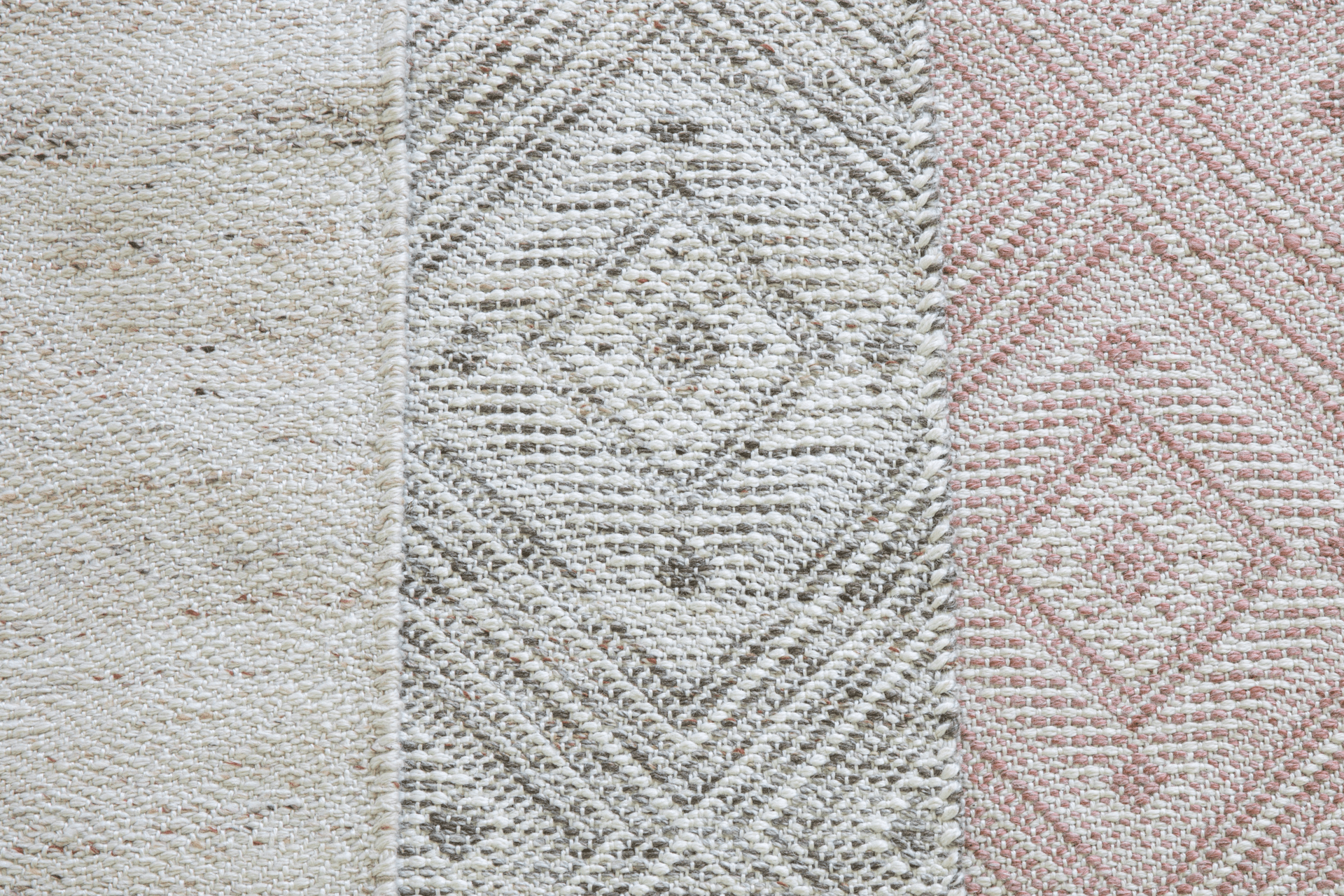 Made to go anywhere - indoors and outdoors.
At NuStory, we prioritize sustainable materials — from natural fibers like jute, wool and cotton to the use of 100% recycled PET polyester. All these materials make their way into our Lakeside Collection, a group of neutral rugs designed to look great alone or layered. Well suited for high-traffic areas, these rugs will last and look good doing it — because true sustainability requires designing for longevity.
Our Herringbone Rug is hand-woven from a natural, undyed wool and cotton blend.
No-Fail Neutrals
The colors in this collection are beautifully simple. For example, our Herringbone Rug comes in Natural, Ivory, Gray and Silver. Undyed wool doesn't use a chemical dye treatment. Instead, it relies on the natural colors in different breeds of sheep to create richly varied tones. It's how we get the subtle undulations in each chevron pattern. Not every rug is crafted from undyed wool, but they all have their own complexities. Our Current Rug is woven from 100% recycled PET polyester, designed with a nuanced beige-and-brown stripe for added depth.
Indoor & Outdoor Living
For inspiration, we looked to the great outdoors and lake living. Our Wylde Rug is suited for hosting indoors and out. Woven from recycled PET in a geometric diamond pattern and easy to clean, it transforms patios and porches into outdoor living spaces.
We created the Wylde Indoor/Outdoor Rug for porches and covered patios.
Soft and Sustainable
Our collection works with a lot of natural fibers. Our Terraria Rugs are hand-tufted from 100% wool and our Range Rug combines cotton with renewable jute for a low-maintenance look with a softer feel. On the other end of the spectrum, our Wylde and Current Rugs are woven from 100% recycled PET, a material that delivers high performance and diverts plastic away from oceans and landfills. We use sophisticated weaves to give it softness, so it looks and feels like wool.
The Range Rug blends cotton with jute, so it's remarkably soft for a natural rug. Natural fibers like jute and hemp stand up well in high-traffic areas. They're smart choices in an entryway, hall, living room or dining area. Many of the rugs in our Lakeside Collection are neutral flatweaves, which makes them easy to place anywhere. Recycled PET is even more durable, and — unlike natural materials — it can deal with a little dampness. Some of these rugs can even go outdoors, but they're equally at home in kitchens, laundry rooms and playrooms.
What Rug Style Is Right for My Space?
So, you need a new rug. You may have a general sense of what color and size will work best in your space. You may have a few hunches about the desired design and aesthetic. But when it comes to sel...
Read more